LHS Grad Night 2019
Updates to come soon. Information below is for Grad Night 2018
Thursday June 7, 2018, 10 p.m. to 2 a.m. at the Beach Boardwalk
We are so excited to have this year's Grad Night at the Santa Cruz Beach Boardwalk!  This is a Safe, Sober event exclusively for the entire class of 2018. It will be the Ultimate Grad Party!
Students must take the bus! We are planning on boarding the buses at Leigh at about 9:00 pm and arriving back at 3:00 am.
This year's Grad Night will include the following attractions:
Unlimited Rides in Double Shot
Unlimited Soft Drinks
Double Shot Plaza
Miniature Golf
Karaoke
Face Painter
Free Play Arcades
Midnight Pizza Feed
Disc Jockey Dance Party
Laser Tag
Airbrush Tattoos
Caricaturist
$20 in Boardwalk Food bucks
A PHOTO ID  WILL BE REQUIRED AT THE ENTRANCE
Contact gradnight@leighhsc.org for more information.
Purchase Grad Night Tickets – $155
Buy an individual ticket for $155. Please also consider donating the price or partial price of a ticket as a scholarship – use the "donate" button. 
Fundraising
Our goal is raise an additional $6,000+ to pay for the buses and provide scholarships for students that need them. Please support us!
DONATE
We are asking for donations when purchasing your ticket. Consider donating the price or partial price of a ticket as a scholarship
"LEIGH GRAD" YARD SIGNS – $15
Purchase a custom lawn sign for your favorite Leigh graduate for $15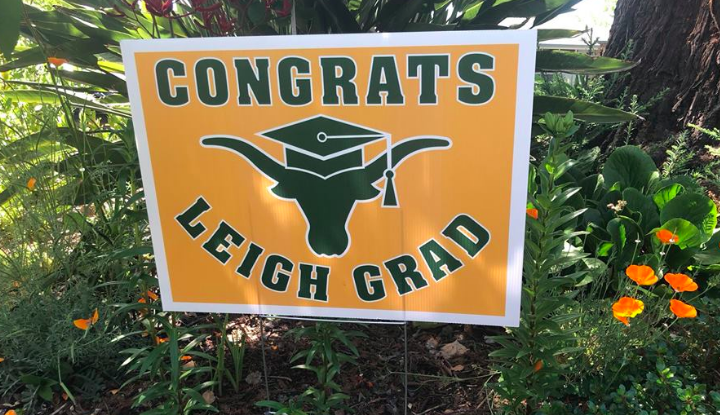 FLOCKING FUNDRAISER – $20
Make a friend, neighbor or family member feel extra special with the surprise of waking up to a yard full of Pink Plastic Flamingos! For $20 a flock of flamingos will be delivered to the house of your choice (within a 5 mile radius of Leigh HS). Just fill out the on-line order form, make your on-line payment and we will take care of the rest. The Flamingos will appear after 9 pm on the day you selected and will be removed the following day after 6 pm. If you would like to know who "flocked" you, "flock" them back and we will send you their name!