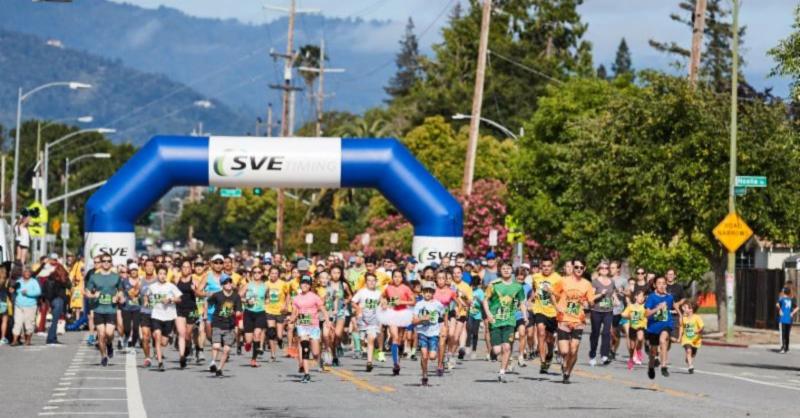 Spearheaded by the Home & School Club, the 5th Annual Longhorn Stampede was held on Sunday, June 2nd, 2019, and was a huge success! We were very fortunate to have the support of our other Boosters (Sports, Spirit & PAPA) as well as the Leigh Staff. And of course we had an amazing team of parent and student volunteers both for the planning and organization in the months leading up to the event and on the day of the event. We are beyond grateful to everyone for their support. Thank you to everyone who participated – runners, walkers, volunteers, sponsors, guests of honor, and our incredible neighborhood who came out in force to cheer on the participants. A very special thank you to all of our sponsors! We truly have an amazing community!
View Stampede Photos: We have several photo sites with photos taken at the start line, on the course, and at the finish line. Feel free to share, download, post, print, copy, etc. Enjoy!
Stampede Photo Site #1
Courtesy of Konrad Michels – Leigh Parent, Etienne Michels – Leigh Junior, Cole Pena – Leigh Senior, Cathy Horton – Leigh Parent, and Eva Strzelecka – Leigh Parent
Stampede Photo Site #2
Courtesy of Linda De Los Reyes – Leigh Parent
Stampede Photo Site #3
Courtesy of our sponsor oollee water provide
Charge into summer with the Leigh Longhorn Stampede!
Sunday, June 2nd, 2019, 9:00am
Join us for our 5th Annual Longhorn Stampede Run/Walk – a 5K event through Cambrian neighborhood. Whether you are a walker, a casual jogger, distance runner, or just want to cheer on the participants, come join our community at 9am, on June 2nd, 2019.
BRING YOUR FAMILY, FRIENDS AND NEIGHBORS AND JOIN IN THE FUN!
This is a USATF certified course. The route starts outside Leigh High school and ends in the school quad. Else Green, a certified personal trainer from the JCC Los Gatos, will present a dynamic, full-body warm-up prior to race start. Our Leigh cheerleaders and band members will be on the course providing spirit and music. There will be snacks, drinks, as well as student and sponsor led booths with fun activities in the quad. We invite everyone to come and be a part of this community event!
Register now to receive a race shirt and custom race medal. Our overall top female and top male runners will each win a fantastic prize worth $2,200 – an oollee water purifier (https://oollee.com/). Create a team and enter to win a team award. Come in costume and enter to win best individual, best group, best teacher and more!
Spearheaded by the Leigh Home & School Club, all Booster Clubs at Leigh including, the Performing Arts Parent Association, Sports Boosters, and Spirit Boosters, have joined forces to put together this fun filled 5k neighborhood Run/Walk. Proceeds will benefit all Leigh students.
Sign up now! Prices go up on race day, and race T-shirts are only guaranteed for those who register by end of May 21st.
---
Registration Fees
Online Registration – closes midnight June 1st
Family: $100 (5 members, max of 2 adults)
Adults: $40
Students: $20
Kids 4 & Under – Free
Race Day Registration
Adults: $50
Students: $35
Kids 4 & Under – Free
All paying participants will receive a race day t-shirt (guaranteed if registered by end of May 21st).
---
Awards
Individual Awards:
Top three male and female finishers overall
as well as the following 11 age divisions (male & female) will receive awards:
10 and under
11-12 (approx 5/6th grade)
13-14 (approx: 7/8th grade)
15-16 (approx: Frosh/ Soph)
17-19 (approx: Junior/Senior)
20-29
30-39
40-49
50-59
60-69
70+
Team Awards:
Teams can be created and joined at Registration time. Each Team must have a minimum of 4 runners, and no maximum. A minimum of 4 runners must cross the finish line to score, and only the first 4 runners score. Team awards will be given to the top 3 teams. There are no age brackets for the Team race.
Costume Contest:
Runners and walkers are invited to come in costume! Dress up and have fun. Register your costume on race day – prizes will be awarded for the following categories:
Best Overall Costume
Best "Twins"
Best Team (or Group) – 3 or more people
Best Teacher
Best Alumni
Best Individual 10 and under
Best Individual 11 and older
---
Course Map
The course starts on Los Gatos Almaden Road, and heads due East, parallel to the school, before heading off into the local neighborhood. The last 1/2 mile is back on campus, with the last 100 meters passing by the theatre and gym before finishing in the quad.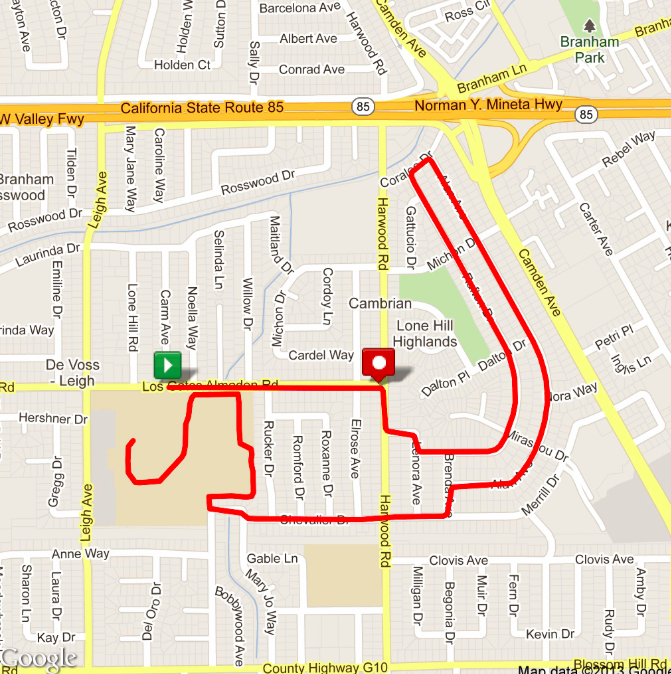 ---

Packet Pick Up
Pick up your bib and t-shirt at Sports Basement in the Pruneyard Shopping Center in Campbell (1875 S Bascom Ave) on Friday, May 31st, 6-8pm or on Saturday, June 1st, 2-5pm. All runners get 20% off at checkout when you show your race bib. If you are a Basementeer, the 10% Basementeer discount stacks on the 20% off for a total of 28% off. Because math!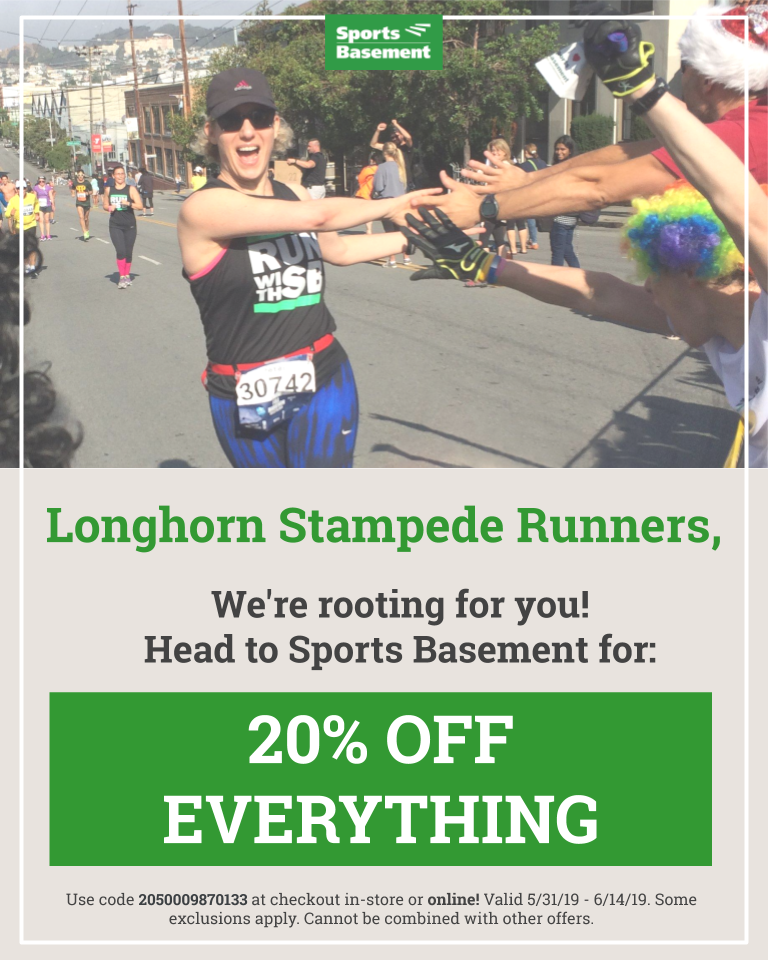 ---
Questions?
Registration: StampedeRegistration@leighhsc.org
Sponsorship: StampedeSponsorship@leighhsc.org
Want to volunteer: StampedeVolunteer@leighhsc.org
All other questions: StampedeInfo@leighhsc.org